The NAB Show hosted by National Association of Broadcasters (NAB) was successfully held from 8th April to 11th April in Las Vegas. As one of the renowned exhibition in global electronic media, it has strong international influence as premium brands from all over the world have participated. As an internationally recognized photographic equipment brand, SIRUI was back to the NAB show with its new products.

In the NAB Show, SIRUI tripods, intelligent products, mobile phone auxiliary lenses and mobile accessories were exhibited and these high quality products drew visitors to experience and communicate.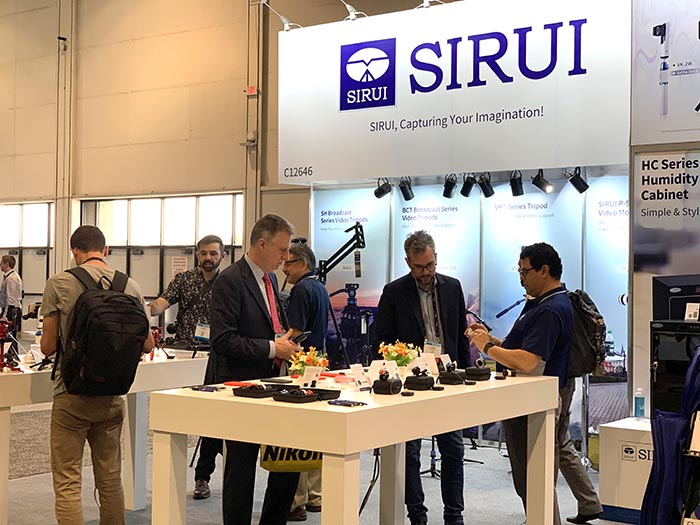 SIRUI Booth in the NAB Show
It is worth mentioning that SIRUI new product VHD Series Multi-purpose Tripod has won the award "Product of the Year 2019 of NAB Show". VHD Series Multi-purpose Tripod is designed by combining the advantages of photographic tripods and traditional video tripods to provide flexible multi-angle adjustment, as well as excellent stability and flexibility essential for bearing cameras, video cameras and monocular. Therefore, it is a good choice for photography, videography and birding.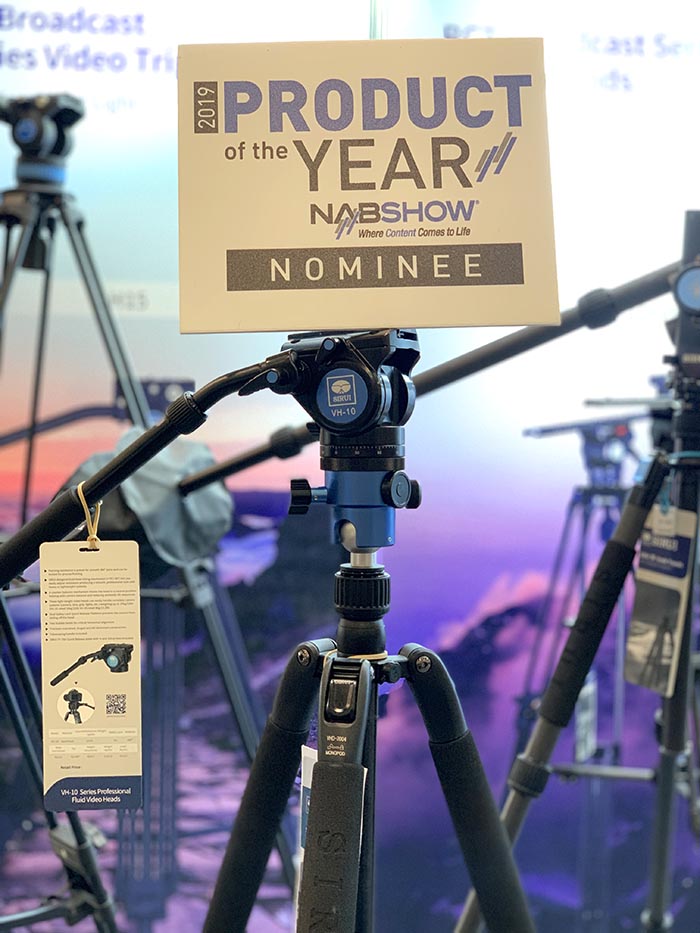 Product of the Year 2019 of NAB Show - VHD Series Multi-purpose Tripod
What's more, another new product SH Series Video Tripod Kit also debuted on the NAB show. SH Series Tripods include a bowl on the spider for use with fluid head, and its multi-tube design, large leg locks and center spreader facilitate to increase the stability of tripods and reduce vibration, which enables photographers to have better video shooting experience with light and portable tripods.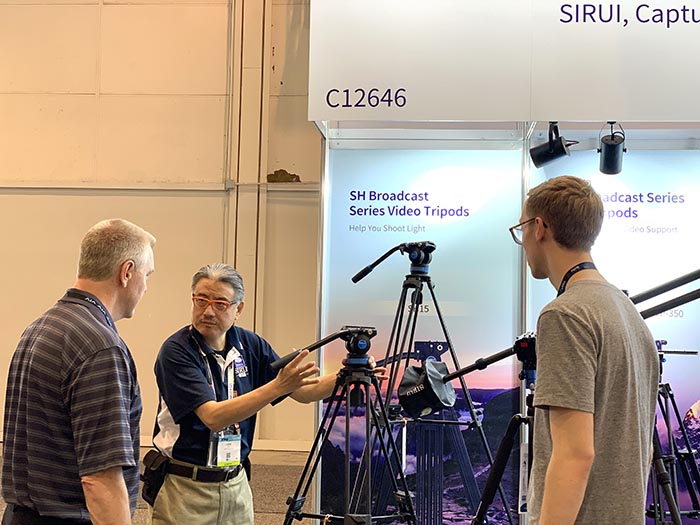 SIRUI SH Series Video Tripod Kit
Of course, there is another kit for video shooting, which is composed of BCT Series Broadcast Video Tripods and Telephoto Lens Support System. The mechanical property of the tripods is higher than other castings manufactured with the same material because of the forging process. In addition, BCT Series Video Tripods with available bowl assembled onto the spider can be attached with BCH Series Fluid Video Head and Telephoto Lens Support System of excellent bearing capacity to provide stronger stability for bearing heavy camera equipment.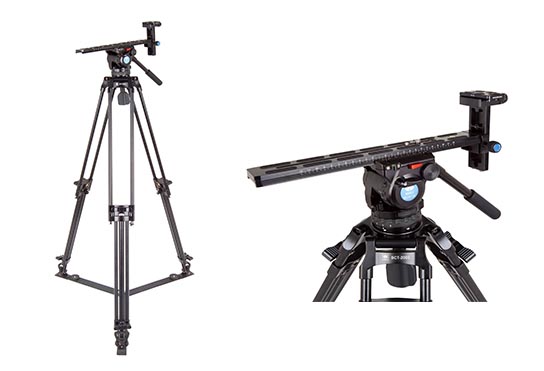 BCT Series Broadcast Video Tripod and Telephoto Lens Support System
Moreover, SIRUI VK-2 Pocket Stabilizer Kit – Plus which has won 2019 International CES Innovation Awards includes ES-01 Pocket Stabilizer and TSH-01X Multi-function Table Top Tripod. It is capable of effectively reduce shake to avoid blurring images and is freely switched between selfie stick, tripod and Bluetooth control. The innovative kit maximizes usability and shooting experience for photography fans as it is highly suitable for them to use in different occasions, such as trip shoot, vlog and live broadcast, etc.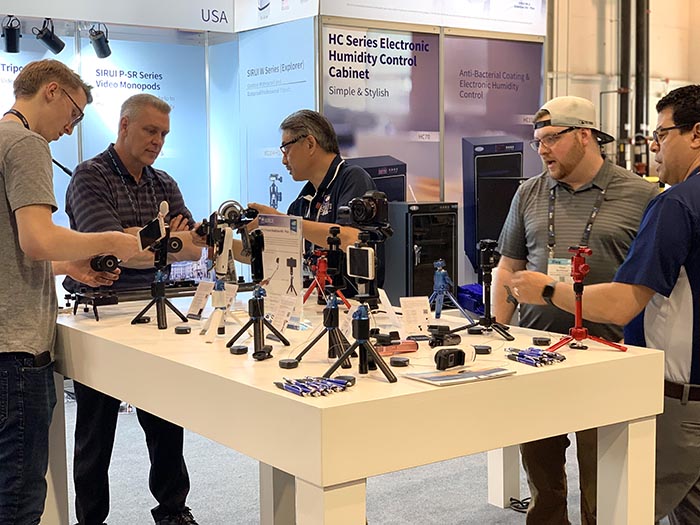 SIRUI VK-2 Pocket Stabilizer Kit – Plus
Furthermore, SIRUI Four-Lens Kit on the display stand includes 10X macro lens, 60mm portrait lens, FE fisheye lens, 18mm wide angle lens (2nd Generation), CPL for 18mm wide angle lens (2nd Generation) and mobile phone lens clip adapter. The upgraded 2nd generation of wide angle lens and CPL are portable, but lighter than the first generation, thus to provide more professional and portable shooting experience for users.
Visitors try SIRUI mobile auxiliary lenses.
One more new product 400mm Long Focus Lens Kit that has been received great interest from industry personnel was also displayed. The 400mm focal length of the long focus lens is able to turn mobile phone camera to a telescope and enables users to easily capture distant scenery and get close to shooting objects. Besides, the included mount cage and mini table top tripod can replace your hand to firmly hold mobile phone in outdoor shooting. Therefore, the 400mm Long Focus Lens Kit will be the option right for you to easily address long-distant shooting needs, for instance, birding, landscape, concert and grandstand, etc.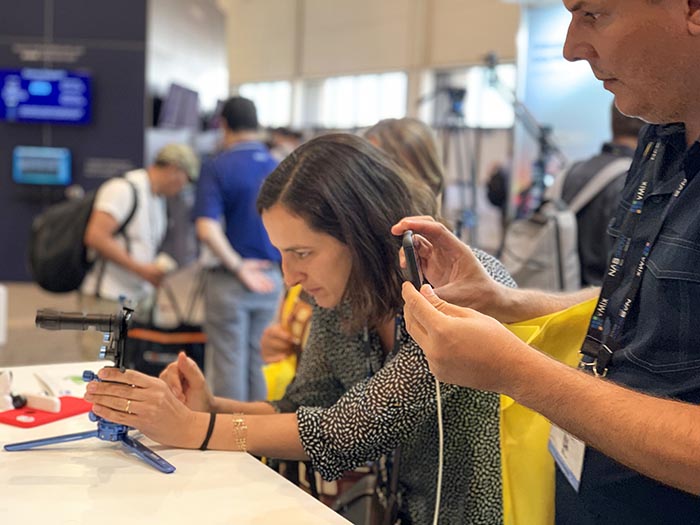 A beautiful lady is trying to use SIRUI 400mm Long Focus Lens Kit.
SIRUI is outstanding in the NAB Show due to the high quality products manufactured with advanced techniques. Visitors coming from all over the world had come to SIRUI booth for experience and communication and they highly praised the exhibited products, which is great support and recognition to SIRUI products. In the future, SIRUI will unswervingly be a pioneer on the road of photography and step up the pace to intelligent manufacturing.